A romantic blind, the fourth tenor in the world— Andrea Bocelli
Sarah.Brightman and Andrea Bocelli -- "Time To Say Goodbye"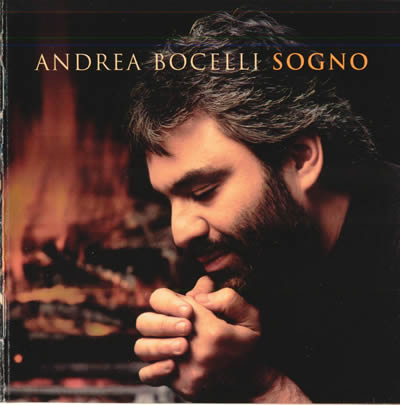 Biography
Andrea Bocelli was born in Lajatico, in rural Tuscany, not far from the ancient city of Pisa. Fascinated by the passion and storytelling of opera and traditional Italian music, Andrea dreamed of following in the footsteps of his idols; celebrated Italian tenors including Mario Del Monaco, Beniamino Gigli and especially Franco Corelli. While a child, Andrea's beautiful, natural voice had made him something of a local celebrity. However his musical dreams were to be interrupted by the realities of adult life. To placate his family and their concerns for his future, he graduated from the University of Pisa in law, practicing as a state-appointed defence attorney for a short time. But his passion for music remained, and Andrea was soon studying under a number of maestros, most notably achieving a personal triumph and a source of encouragement when accepted as a pupil for master classes by his hero, tenor Franco Corelli.
In 1992, Italian rock star Zucchero enlisted then-unknown Andrea to record a 'demo track' of "Miserere", a duet to be recorded with Luciano Pavarotti. Andrea effortlessly captured the very essence of the song. As Zucchero later said, "He just had this 'soul'".
Andrea's voice was soon attracting attention outside Italy. His international breakthrough hit was the beguiling "Con Te Partirò" and in it's duet arrangement with Sarah Brightman, "Time to Say Goodbye (Con Te Partirò)". The solo version was a worldwide smash, topping the French singles chart, while the duet held the top spot on Germany's single chart for fourteen weeks, and, at three million copies, went on to become Germany's best selling single of all time. "I have wonderful memories singing with Andrea," says Sarah Brightman today. ''Time to Say Goodbye' will always hold a special place in my heart".
In 1996 and 1997 Andrea Bocelli exploded on album charts across the world, with the international debut album, Romanza, a collection of passionate popular songs. Conquering Europe, then charts around the world, the album amassed a multitude of platinum and multi-platinum awards, with worldwide sales in excess of 16 million copies to date. Selling an impressive 500,000 copies in the Far East, one million in Italy, and more than three million in Latin America and Spain, the album also contained "Vivere ", "Il Mare Calmo Della Sera," and the title track, "Romanza," all of which feature on the new Best Of collection.
Andrea's 1999 Best New Artist Grammy nomination marked the first time a classical artist had been nominated in the category in 38 years. 'The Prayer', his duet with Celine Dion for the animated film, The Quest for Camelot, won the Golden Globe for Best Song and was nominated for an Academy Award. In March 1999 Andrea released his second pop offering, Sogno. The album, which included "The Prayer," entered the upper reaches of the pop album charts around the world, confirming Andrea's position at the pinnacle of the world of popular music, and giving birth to the phenomenon of "Bocellimania".

The Early Years
Born on September 22nd, 1958, Andrea grew up on the family farm in Lajatico, a close knit farming community set among the vineyards and olive groves of rural Tuscany. The farm includes a small vineyard, from which Andrea's father, Sandro, still produces a small quantity of "Chianti Bocelli." Displaying rare musical gifts from an early age, Andrea's parents nurtured and encouraged his talents with formal piano lessons from the age of six, later learning to play both flute and saxophone. Andrea's love of opera was also apparent from an early age, and he feels he was destined to sing. "I was one of those children who would always be asked to sing for my relatives. I don't think one really decides to be a singer - other people decide it for you by their reactions".
After school, Andrea studied law at the University of Pisa, and these years are fondly recalled as a highly enjoyable period in his life. Graduating as a Doctor of Law, Andrea spent a year acting as a court-appointed lawyer, before embarking on a make-or-break attempt at singing. He approached the legendary tenor, Franco Corelli, famous for working with some of the greatest voices in the world, who readily agreed to take Andrea as his pupil. To pay the fees Andrea performed at night in piano bars and clubs, and at one of these venues he met Enrica, his future wife. The couple have now been married for eight years, with two sons, Amos and Matteo.
The Discovery
In 1992 a chain of events accelerated Andrea from piano bar performer to international superstardom: Italian rock legend Zucchero held auditions for tenors to make a demo tape of the duet Miserere , the track co-written with U2's Bono, in attempt to persuade Luciano Pavarotti to record the song. Zucchero recalled: "Andrea was just unbelievable! He had something not one of the other tenors possessed. He had soul." When Pavarotti received the demo, he was extremely impressed with Andrea's voice, "Zucchero!, Who is this guy?" Pavarotti demanded. "Thank You for writing such a wonderful song. Yet you do not need me to sing it - Let Andrea sing Miserere with you, for there is no one finer." Zucchero convinced Pavorotti to record Miserere with him, and the duo scored a Europe-wide smash hit. When Zucchero embarked on his European tour, with the public crying out to hear the hit live, he invited Bocelli to perform the duet in place of Pavarotti. Bocelli was received tremendously, and a solo spot was incorporated into the concerts.
Pavarotti later arranged to meet with Andrea, and a friendship was formed. Andrea's fame and popularity increased with a high profile performance at Pavarotti's annual charity gala concert, which brings together the worlds of classical and popular music, and this saw Andrea performing not only with his host, but with stars of popular music including Bryan Adams. A 1995 pan-Europe tour, "Night of the Proms" featuring Bocelli, Bryan Ferry, Al Jarreau and others, saw Andrea performing to a live audience totalling 500,000 with televised audiences numbering tens of millions.
Sugar Music & The Sanremo Festival
Andrea's recording career begun in earnest when in 1993 he signed to Inseieme/Sugar, the Milan-based music group founded in the 1930's who represent scores of famous Italian artists. Caterina Caselli, Sugar's President, heard Andrea sing Miserere and Nessun dorma at Zucchero's birthday party and a deal was made immediately. In November 1993 Andrea entered the preliminary round of the prestigious Italian Sanremo Music Festival performing both parts of the duet Miserere. Andrea won the preliminary competition with the highest marks ever recorded in the "New Entrants" category. In spring of 1994 Andrea entered the main competition with II mare calmo della sera, and the victory was again awarded with a record score. His debut album was released and immediately entered the Italian Top Ten and went platinum in a matter of weeks.
As winner of the 1994 Sanremo Festival Andrea was invited, as in the tradition, to return the following year. Andrea entered with Con Te Partiro taken from his second album "Bocelli" produced by another of Italy's leading record producers, Mauro Malavasi. The album went on to achieve double platinum sales in Italy.
Major international chart success with single and album releases
Bocelli's worldwide success has been phenomenal, scoring No.1 singles and albums. the singles Con Te Partiro and Time to Say Goodbye have smashed sales records in several countries, while Andrea's albums have amassed sales awards across Europe. Bocelli's original solo version of the singe Con Te Partiro, featured on the album "Bocelli" was a massive hit; in France the single topped the charts for 6 weeks, earning a triple Gold sales award; in Belgium the single became the biggest hit of all time, spending 12 weeks at No.1 The album "Bocelli" has been awarded Platinum status is all territories of releases, including sextuple platinum in Belgium, quadruple platinum in Germany (selling nearly two million copies), quadruple platinum in Holland and double platinum in Italy. In November 1996, Andrea and Sarah Brightman were invited to perform the duet "Time to Say Goodbye (Con Te Partiro) at the farewell contest of the German World Light-Heavyweight boxing champion, Henry Maske. A national hero held in unrivaled esteem, he is known for his love of selecting entrance themes to his bouts. Sarah Brightman, the internationally renowned soprano and friend of Henry Maske heard Con Te Partiro in a restaurant while dining with her friends. Entranced by the singer and the song, Brightman made contact with Andrea. Andrea and Brightman re-recorded Con Te Partiro as the duet Time to Say Goodbye with members of the London Symphony Orchestra.
Maske, unfortunately was defeated on points by US champion Virgil Hill. As the German public paid tribute to their departing hero, the arena was filled with the glorious sound of Time to Say Goodbye. The hearts and minds of the German nation were captured. The single was released and shot to No.1 where it resided for 14 weeks. With sales nearing 3 million copies, and a sextuple platinum award. Time to Say Goodbye has eclipsed the previous best-selling single by well over 1 million copies. However, it was "Romanza", Bocelli's international debut album released in 1997, which took him to even greater heights of success. Going multi-platinum in virtually all territories of release. With his recent release of "Sogno" selling in excess of 4 million copies in just a couple months, is a testament to the power of his unique voice and irresistible warmth in overcoming barriers of language and culture. (See here)
While creating the perfect track listing for Bocelli's first-ever album of popular songs, Bocelli and his producers searched the musical eras from the 1920s to the 1980s for songs in Italian, Spanish and French. Bocelli also added some of his favorite international pop songs, including the Italian classics "L'Appuntamento" and "Quando M'Innamoro," the Latin American hit "Besame Mucho," and the French standard "Les Feuilles Mortes," which has become the much-loved English standard "Autumn Leaves." "Solamente Una Vez" (a hit as "You Belong to My Heart" for stars including Elvis Presley and Bing Crosby) and "Somos Novios" (famously an English-language hit as "It's Impossible" for Perry Como) are also highlights of the album. The end result is Bocelli's amazingly beautiful interpretation of classics made popular by legendary vocalists from Edith Piaf and Luis Miguel to Elvis Presley and Frank Sinatra.
Amore features a stellar lineup of the world's finest instrumentalists, who between them have worked with virtually every major artist of the recent era: On electric and acoustic guitar, Dean Parks (Stevie Wonder, Billy Joel, B.B. King) and Michael Landau (Pink Floyd, Joni Mitchell, Miles Davis); on Spanish guitar, mandolin, charango, bajo-sexto and vihuela, Ramon Stagnaro (Luis Miguel, Alejandro Sanz, Enrique Iglesias); on bass, Nathan East (Eric Clapton, Phil Collins); on drums, Vinnie Colaiuta (Sting, Marcus Miller, David Sanborn); on piano and keyboards, Randy Waldman (Barbra Streisand, Kenny G, George Benson); on percussion, Paulinho Da Costa (Prince, Quincy Jones, Herbie Hancock) and Rafaela Padilla (Gloria Estefan, Alejandro Sanz); and on trumpet, the acclaimed soloist Chris Botti.
Product Description
Romance. Passion. Emotion. These words are synonymous with the voice of Andrea Bocelli. Almost ten years ago he exploded onto the international music scene with Romanza, and has since sold nearly 50 million albums worldwide. Amore--released amongst the glamor of the Winter Olympics in Torino, Italy (where he will perform at the closing ceremony) and the romance of Valentine's Day--finds Bocelli straying from the carefully groomed classical ground in which he is most familiar. The concept of the album came from famed producer and longtime Bocelli fan David Foster along with co-producers Humberto Gatica and Tony Renis, who posed the question: Why not take the most beautiful love songs in the world and pair them with the most romantic voice in the world? The result is a beautiful album of pop standards that Foster has publicly claimed is "one of the most beautiful records I have ever been part of."
Embarking on a new era, Amore unveils a fresh sensuous sound that gently moves Bocelli into new territory. Spanish guitars flourish, traditional Latin percussion seductively keeps the tempo, accordions and harmonicas provide charming melodies, while sometimes Bocelli shares the spotlight with just a grand piano. Recorded late in the summer at Bocelli's Tuscan home studio overlooking the coast, the album exudes the natural beauty and breathtaking surroundings evident in Italy. Amore marks the only album David Foster has made outside of his Californian studio complex in two decades. This was also most musically gratifying for Bocelli: "I've been presented with opportunities I once could only dream of, challenges I longed to confront and experiences I will cherish forever, but while recording this album I realized that now is the perfect moment to arrive at an album of this repertoire, with the perfect producers, the perfect musicians and the perfect selection of songs." (See here)